Everybody around you is talking aboutjournaling, because it helps to keep your focus and toreduce stress and anxiety? You have been thinking about it for a while now, but haven't started, because you are just not that journaling type? Do you like nice notebooks, but feel like they are to nice to write in? You feel like journaling every day is way too much effort, so you keep procrastinating? I feel you!
Throughout the last years I have created a tool for myself on how tokeep track of my daily work and experienceswith just some short and easy notes throughout the day. On top of that I have created a more detailed monthly and yearly review, which helps to properly reflect on how I spend my time and energy, tokeep my focus on my goalsandbe more awareof where I'm wasting my time and energy in the wrong places. I have been using this technique for over 6 years now and it helps me to bemore productive,more gratefulandless stressedaltogether.With the help of calligrapher Nicole fromNicnillas Inkwe have created some PDFs that make it even more fun to reflect and write things down.
I have been sharing my own review package with only a few people, but notices that it helps others just as much as it helps me. I'm sure it will help you as well, especially if you haven't done much reflection work yet, need a way to start or look for a different way to journal.
4,60€ | you will be redirected to digistore24.com
BUY NOW (GERMAN ONLY)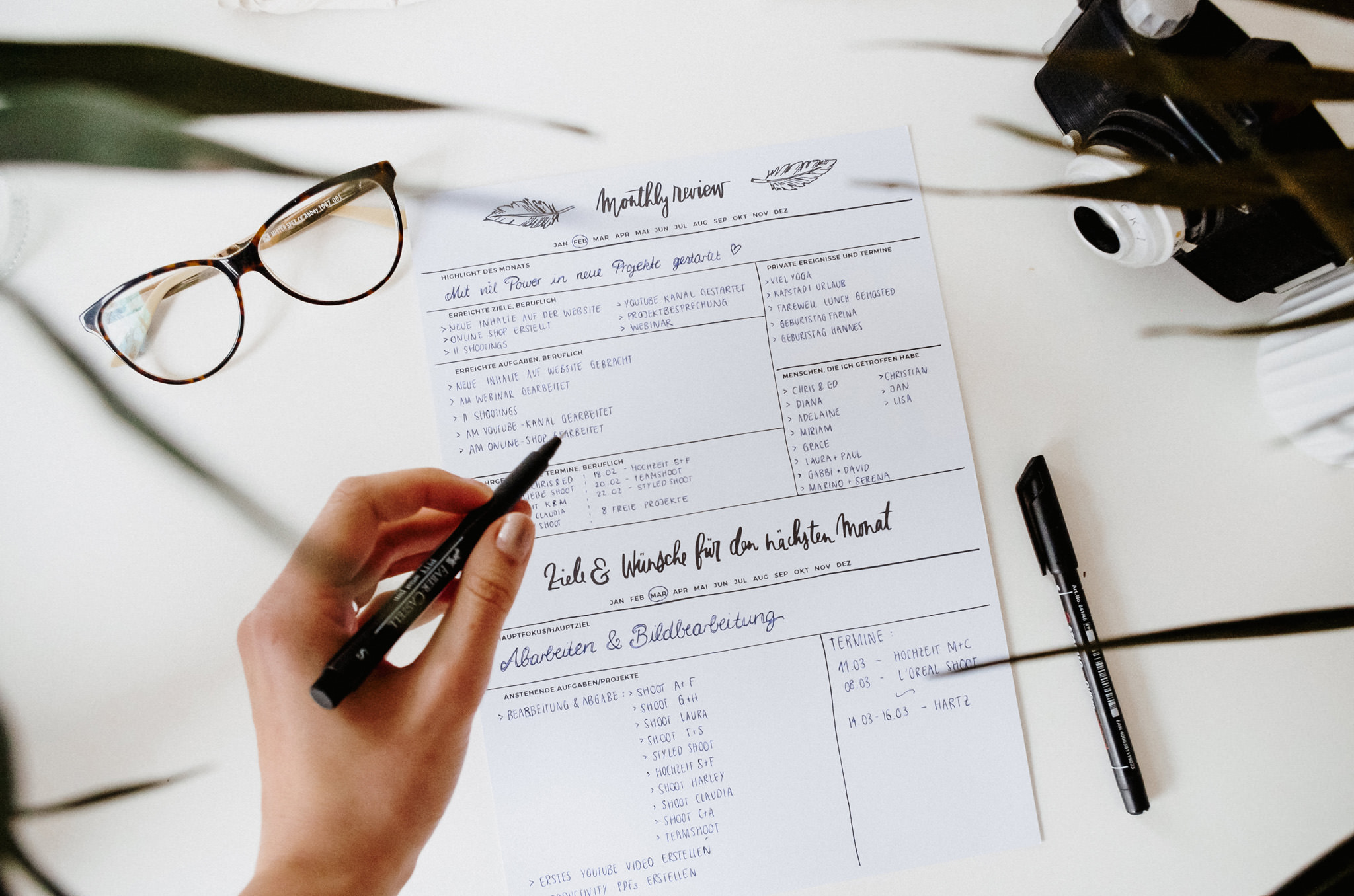 1€ of each sale will go to one of the most amazing projects in South Africa, the Earthchild Project

They bring meditation, yoga, eco- and other lifeskills into schools in south african townships. They create space for the kids to feel loved, to feel safe. Most of them don't have a safe space where they live and it is absolutely incredible to see how positive, open and joyful these kids are and to hear about the impact that the project has on the development within the community.
4,60€ | you will be redirected to digistore24.com
BUY NOW (GERMAN ONLY)